What therefore you worship as unknown, this I proclaim to you. Acts 17:23 NASB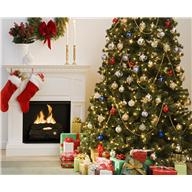 Everywhere I turn, it's beginning to look more like Christmas. Carols are humming over the airwaves, stores are decked in red and green, and Santa and his elves are peering around every corner.
As a Christ follower, this is the season I celebrate His birth. It's the time when the God of creation stepped into the world and divided time . . . B.C from A.D. It doesn't matter that scholars are renaming the divide; we can't argue who initiated it.
The season is also a time of unprecedented political correctness. It's no longer Merry Christmas. Instead a chorus of Happy Holidays fills the air. Schools aren't out for Christmas but close for winter break. It's not inclusive enough to have a Christmas party—only generalized holiday themed celebrations are lauded for their open-mindedness. Christmas, it's argued, is only for Christians. It's too exclusive and leaves people on the outside of the fun.
Everyone seems to have forgotten God came to save the world—the entire world. I don't think it can get more inclusive than that.
So this year, I'll be unashamed as I remind everyone I meet that they are included in Christmas. The message isn't one of exclusivity, but one of love. It's the season of God's outstretched arms, encircling a cold world in His loving embrace through the birth of a baby.
Celebrate Christmas' message of love.
(Photo courtesy of pixabay.)
(For more devotions, visit Christian Devotions.)
---
---