In the paths of the wicked are snares and pitfalls, but those who would preserve their life stay far from them. Proverbs 22:5 NIV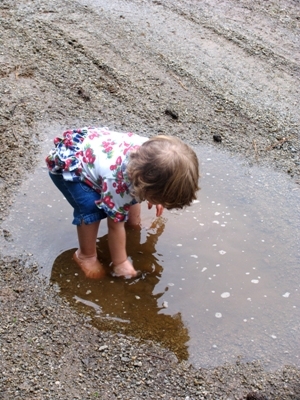 It was a nasty sensation, hiking across our newly-planted cornfield when … zoop! My foot dropped eight inches into a pocket of muck that didn't want to give it back. I managed to pull my foot free, but my sneaker stayed behind. I grabbed a stub of shoestring with both hands and yanked hard. The mud protested with a loud sucking noise, but finally gave up its prey. I tied my filthy sneaker back on and squished the quarter mile back to the house, grateful I hadn't broken my ankle.
Lord, what will it take for me to smarten up? See, I'd turned my ankle in another mud hole the day before—in the very same field, which the rain-swollen Susquehanna River had recently flooded. What possessed me to tramp there again? Curiosity, that's what. I saw something bobbing in the receding floodwater and wanted to get a better look. So I walked on, even closer to the river than the spot where I'd previously come to grief. And the muck sucked me in again, deeper than the first time. And very, very quickly.
Proverbs warns us to stay far away from the paths of the wicked to preserve our lives. It's no surprise that the wicked fall into snares and pitfalls. That's the natural consequence of their actions. But good Christians who foolishly flirt with evil can stumble in too.
Dabbling in almost-sinful behavior, whether out of curiosity, self-indulgence, or a misguided show of open-mindedness, seriously jeopardizes our walk with the Lord. If we ignore common sense, Christian counsel, and even personal experience of the hazards (like my first run-in with the muck) and continue to edge closer and closer to vice, the sin trap can snatch us—zoop!—as quickly as a muddy sinkhole.
Do you think you can get away with a brief stroll on the fringes of sin? Smarten up. Run, don't walk, far away from those paths before sin sucks you in!
(Photo courtesy of morguefile and anitapeppers.)
(For more devotions, visist www.christiandevotions.us.)
---
---