But Samuel said, "What then is this bleating of the sheep in my ears, and the lowing of the oxen which I hear?" 1 Samuel 15:14 NKJV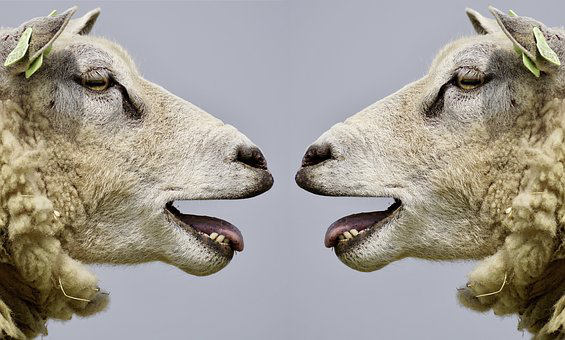 God uses various ways to communicate.
He'll use a still, small voice, dreams, an angel, or a prophet to speak in our language. Many times we ignore His message, but He continues to love us. He'd like us to listen and obey, and He is pleased when we respond.
In the American Patriot Bible, the word bleating shows up one time. Samuel went to King Saul to deliver a message from God: "You're fired!"
Within the context, Saul states he has done as the Lord directed in destroying the Amalekites—but he brings back their king. He makes excuses for why his followers gathered the best sheep and goats and oxen from a battle where they were commanded to destroy an entire people, their goods, and their chattel. Samuel wasn't impressed. The bleating sheep told a tale of guilt.
God expected Saul to do everything as commanded. Samuel spoke clearly to Saul. Regardless of the intent, the bleating sheep made the rebellious act clear.
In the course of life, we receive many messages and a few telegrams detailing God's plans. If our ears are not attuned—or if our fingers plug our ears or denial stops the spiritual communication—the will of God will lie dormant around us.
Our part may be small, so God gives us other opportunities to show our sensitivity to Him. Sometimes we give the appearance of doing His will, but the baggage we bring back tells a different tale. We not only miss the blessing but also stand in danger of losing our position in the kingdom.
When we fail to do what God commands, the evidence drowns out the voice of God. Israel would have seen great wonders if Saul had listened.
Listen to God for specific direction, not the bleating-sheep-speaking guilt. Refocus your mind on God. He'll bless you far beyond what the sheep represent.
(Photo courtesy of pixaby.)
(For more devotions, visit Christian Devotions.)
---
---