Peace I leave with you; my peace I give you. I do not give to you as the world gives. Do not let your hearts be troubled and do not be afraid. John 14:27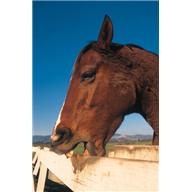 The horse neighed and paced the corral. Her deep cries shook the window I watched from. I feared a mountain lion or bear was threatening her, so I went outside to chase off the intruder. No intruder was found, but her colt was missing.
The beautiful mare ran to the edge of the fence as if to jump over, but lowered her head and jerked back releasing a heart-piercing cry. I sat helpless for hours watching and hoping for the return of her young; I wanted the pain this mother felt to end.
Today my heart cries for the pain I witness as my friend cries for the incurable disease that will call her husband home. Again, it is the helplessness that haunts me. I can't control the intruders. I find the only weapons against this pain are the words Jesus speaks to me daily through the Holy Bible and devotions. God promises us peace. He is faithful to us in all things, and though His plan may be greater than our eye can perceive, there is peace in trusting Him.
Whatever invades your world, remember you are never alone; the power and the peace to endure is because our hope lies in God and not in the trials of this world. His plan for us is unending … eternal.
Trust God and come into His presence. He will cover you will His peace.
(Photo courtesy of office.microsoft.com.)
(For more devotions, visit us at www.christiandevotions.us.)
---
---