Whoever has ears, let them hear. Matthew 11:15 NIV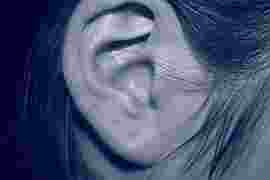 My husband, Bob, received a little cross from a nearby church when we went to see a Christian movie they were showing. It meant the world to him. He carried it with him everywhere he went and laid it by his head every night as he slept.
Someone remarked that he shouldn't worship a piece of wood. Bob explained it wasn't the three inch wooden cross he carried that meant so much but what it stood for. "Christ gave His life for me on the original one at Calvary," he chanted to those who mocked him for his loyalty to the small wooden replica in his pocket.
Bob had preached the Word of God for sixty-five years and loved serving God in that manner. At ninety, age kept him from the pulpit, but the small cross allowed him to tell the story of the loving grace of his Savior as he showed it to strangers he met at the many restaurants and stores where we stopped.
One day, the cross disappeared. We searched all over the house. While tipping the chair he always sat in, I told Bob he should have taken better care of something that meant so much to him. I was positive he'd left it at one of the places we'd visited.
"Perhaps the person who finds it needs it more than I do," he said with a reassuring smile.
I hadn't thought of that. Once again—as he had throughout our many years as husband and wife—he blessed me with his words. I smiled inside. He didn't need to stand behind a pulpit to preach.
Many times, God speaks loudly through a simple sentence in His holy word. But I wonder how much I have missed by not hearing what He says so plainly.
As God's children, we should listen as He speaks to us every day: in a sunrise, through a stranger, and often through our loved ones' voices.
Not only listen; hear as well.
(Photo courtesy of pixabay.)
(For more devotions, visit Christian Devotions.)
---
---