In fact, though by this time you ought to be teachers, you need someone to teach you the elementary truths of God?s word all over again. You need milk, not solid food! Hebrews 5:12 NIV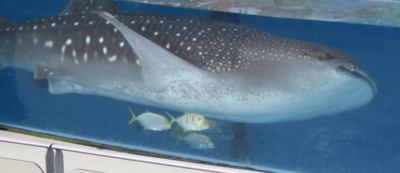 My son David entered his room to change after work. As he went through drawers pulling out clothes, he had an overwhelming feeling of being watched. Turning around, he grasped his chest, then laughed. Lined up in a neat row, staring at him from their aquarium home, were his four freshwater sharks. They were waiting for David to feed them.
A few days earlier, he had placed goldfish in the tank in an attempt to wean the predators from the frozen bloodworms he had been providing as living food. The goldfish were more economical. Besides, sharks are supposed to hunt for their own food. Even as hunger must have gripped them, they rejected the goldfish and waited for David to feed them. Months later, they still rely on him for their daily food.
As Christians, we can become like these sharks. Rather than spending time in The Word ourselves, we rely on pastors and Bible teachers to feed us.
Paul's challenge to believers is to "eat meat." Otherwise, we remain immature and only comprehend the milk of the Word. We limit our growth and underestimate our abilities. Just as God created the shark to hunt for its food, so God has created His children to seek after Him. My son wanted his aquarium friends to eat the goldfish because they were more economical, and with his hectic schedule he wasn't always available at the same time every day to feed them.
Jesus wants us to feed on his Word daily because it provides us greater strength and a more intimate relationship. Begin your day hungry and feast on God's Word.
(Photo courtesey of morguefile and jade)
(For more devotions, visit www.christiandevotions.us.)
---
---