Through the blessing of the upright a city is exalted, but by the mouth of the wicked it is destroyed. Proverbs 11:11 NIV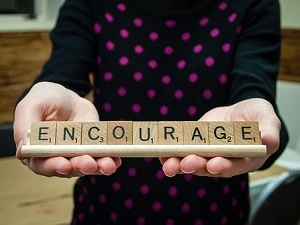 I didn't know it, but my words held power.
My prayer buddy, Kim, once told me her son-in-law, Zack, worked in the same chiropractor clinic to which my son went for treatment. I told her I had met Zack and that he was a nice person. Her reply stunned me. "Now I know you will become a blessing to Zack."
Why did Kim say that? My first thought was that she was a humble person who always thanked God for what she received, including compliments. Kim was also compassionate and loved to encourage people.
Her words became a driving force that motivated my heart to feel grateful to God. God worked through the Christian staff at this clinic to help my son recover from his back pain. I felt joyful and gave cards written with my prayers of blessing to show my appreciation to the workers at the clinic—plus a little gift.
Solomon said a city is exalted through the blessing of the upright. If one person's good word can influence and pass blessings to another person, then imagine how a joyful blessing could spread more powerfully to a whole city.
Jesus came to bless us with His good news of forgiveness and freedom that can reach everyone. Through one person at a time, the whole world can catch His fire of blessing.
The words of our mouths have power. We can choose to speak the truth of blessing in love to lift ourselves, family members, friends, neighbors, strangers, and even enemies.
Why not ask God to sanctify your lips with His truth so that you will speak blessings in love to those who need to come out of the darkness and to Jesus Christ.
(Photo courtesy of pixabay.)
(For more devotions, visit Christian Devotions.)
---
---