So Joseph bought some linen cloth, took down the body, wrapped it in the linen, and placed it in a tomb cut out of rock. Then he rolled a stone against the entrance of the tomb. Mark 15:46 NIV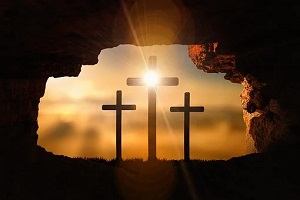 I laughed at her sweetly spoken and crudely written words.
On an Easter Sunday morning, before breaking into small groups, the youth of our church viewed a stick-people video narrated by children. The children described events surrounding Jesus' crucifixion on Friday. Most of their comments fit what we typically expect: Jesus' love, ministry, and cruel death, as well as the people's reactions. Yet one stood out from the others. A little girl called the day following the crucifixion, Sadder Day.
I doubt I'll ever forget the little girl's words. What an on-target description, simple yet profound. Never has our world known a sadder day. Following Friday's events, reality hit hard. Jesus died. Joseph and Nicodemus buried him. The disciples disappeared. Jesus' mother and all His followers mourned. Sin reigned…or so it seemed.
However, the children's narration did not stop there. The sadness of Sadder Day did. On Sunday, the women who planned to anoint Jesus' buried body found an empty tomb. An angel told them Jesus was not there. He had risen from the dead. Later, Jesus appeared to them and others before His ascension back into heaven. According to Jesus' commission before leaving them, His formerly sad and fearful followers boldly proclaimed Jesus' defeat of sin and death.
That same story and commission lives on through the lives of Jesus' followers today. We all have sadder days. Nevertheless, if we embrace the Easter message and allow its truth to permeate our lives, we know those days will pass. Jesus' victory and message become ours to live and to share.
With childlike enthusiasm, embrace and then declare the triumph of love over hate, peace over conflict, hope over despair, and joy over sadness.
(Photo courtesy of pixabay.)
(For more devotions, visit Christian Devotions.)
---
---