Surely your goodness and love will follow me all the days of my life, and I will dwell in the house of the Lord forever. Psalm 23:6 NIV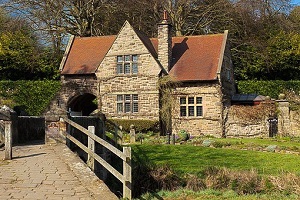 Mom grew up visiting her grandparents on the family farm.
Every visit steeped her in familial lore and ancestral heritage. Each piece of furniture in the farmhouse blended her relations' tales with her youthful escapades, forever bonding them in her memories. The wooden churn her great grandmother used to make butter became a prop in Mom's college production of Oklahoma. Her mother rescued the cherry wood corner cabinet from a horse barn and restored it. Even the iron mantles gracing the fireplaces could be traced back to their original owners. None of it was fancy, but it was family.
When I was a child, that farmhouse was bulldozed to expand the state road, and, before their deaths, Mom's parents divvied up the artifacts between Mom and her three siblings. But thanks to my uncle's distance and Mom and her baby sister's available space, the middle sister's home became the repository for most of the furniture and decor. For years, it lived together as a collection, a carefully curated museum of sorts, dedicated to our heritage and the farmhouse that was once Mom's childhood playground.
Every trip to visit my aunt became a treasured tour of memories. Mom would recount the placement of each item in its original home, recalling scenes and situations that occurred in their presence. With each story, she rebuilt the farmhouse in her mind and in mine.
When my aunt passed, the artifacts were once again distributed among the family, but on a much wider geographic scale. No longer would they be collected together for Mom to savor and remember. For weeks, she grieved not only losing a beloved sister but also losing the farmhouse. Her concept of "home" was fractured.
Until that is, the Holy Spirit whispered to her, "In whose house do you want to live?" Did she want to live in a house founded on God's promises or one founded on her longings and past? After much soul-searching, Mom chose the promise of an eternal home in heaven and released her grief and the past to God.
We can live in a house built on grief and loss, or, like Mom, rebuild our house over and over. To freely dwell in the house of the Lord, we must release the pain of our past and choose to trust God's promises.
Are you ready to let go and move on?
(Photo courtesy of pixabay.)
(For more devotions, visit Christian Devotions.)
---
---