You have been a refuge for the poor, a refuge for the needy in their distress, a shelter from the storm and a shade from the heat. Isaiah 25:4 NIV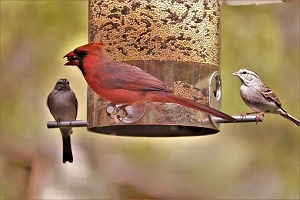 As I sat on my sunporch on a grey autumn day, I watched the birds flit around our yard.
One could easily mistake our yard for a bird sanctuary. The finches swooped in, showing off their graceful technique as they dived into the window feeder. The chickadees bobbed their heads and watched for predators as they pecked for food. The nuthatches noisily broke open sunflower seeds. The sparrows splashed in the water fountain, and the red cardinals bathed in the pond. All their needs were provided for as they flocked to the haven of our backyard.
So, too, it is with our God. He abundantly provides. He gives us the earth and all it contains to take care of us—not just physically, but emotionally and spiritually as well. God is our refuge and shelter from the storm if we choose to believe. Under His protection, we can enjoy peace, love, and joy.
God provided the birds as solace for me as I watched them during my recovery from a painful shoulder surgery and the long-term effects of the COVID pandemic. Although I've suffered from a sense of uselessness, loss of purpose, and physical pain during this time, I found comfort when I rested in God, observed the birds, prayed, and enjoyed what God provided. Experiencing pain daily caused me to press further into God, to take refuge in His presence, His creation, and His peace. His small gifts, like the birds, offered a time for relaxation and meditation on Him and His Word.
With all the turmoil and unrest in our world, we should stop and take shelter under God's wing. God provided His Son, Jesus Christ, so we can rest in Him. We can engage with the Father, the Son, and the Holy Spirit while feeding from His hand. Contemplating God's wonderous works can bring us the peace and joy we long for and the pause we need.
Why not stop and listen to a bird's song or gaze at a beautiful sunset. Let God's presence surround you. He is everything you need and your true sanctuary.
(Photo courtesy of pixabay.)
(For more devotions, visit Christian Devotions.)
---
---