Lord teach us to pray... Luke 11:1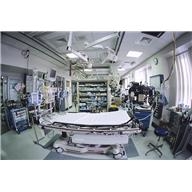 The progression of my son's tummy ache sent us to our doctor, and quickly thereafter, to the hospital. This was a new experience for me. I had to face a big problem without my husband's wisdom. He was out of town, and I always leaned on him for guidance. He seemed like the rock in our family.
Scotty was prepared for surgery, and I watched teary-eyed as he was rolled down the hallway. Though the waiting room was comforting, it was the magazine rack that looked most interesting.

A booklet caught my attention, Adventures in Prayer. That's what I needed, but in reality it was a lovely lady on the cover who looked interesting. I learned she was Catherine Marshall, the author of many books about prayer and growing in the fullness of the Christian life. The very first story helped me to see that I needed more in my life. Mrs. Marshall wrote about her conversations with a living Lord. I had heard that name when I joined the church as a child, attended a Christian college, and now as a minister's wife.

As I read about her experiences, I realized I had never spoken to Jesus the way Mrs. Marshall suggested. To think I could talk to Him about anything was an exciting revelation. I felt as if I were in a spiritual daze. I had no relationship with a living God. Jesus Christ was my Savior, but not the Lord of my life. My prayers were read from books, and the Bible was only a textbook. The man named Jesus was a glorious, but historical, truth of the years He walked the earth.

From deep within my searching heart I quietly told God about my burden. "I do not know you. Please help me. Amen."
I now believe those simple words were the most eloquent I had ever prayed. Jesus took time to teach the people to pray. But in doing so, He understood it would take time for them to understand and learn. It would take time for them to grow in a relationship with Him. Just like for me, time and practice taught me much.

Scotty's surgery was a success and the doctor's report assured us he'd have a full recovery and freedom from pain. God's report, for me, was that I was on my way to freedom from just a form of religion. My new and exciting relationship began to grow as I said, "Lord, teach me to pray."
Start your relationship with Him right now. Pray. He is ready to listen.
(Photo courtesy of office.microsoft.com.)
(For more devotions, visit www.christiaindevotions.us.)
---
---