Tell the next generation the praiseworthy deeds of the Lord, his power and the wonders he has done. Psalm 78:4 NIV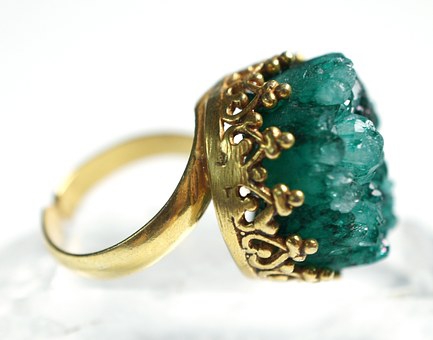 Tonight is the wedding of her son to a sweet, Texas gal.
The mother of the groom pulls a black velvet box from her dresser. With misty eyes, she opens the lid and fingers her family heirloom. Her dad bought the exquisite aquamarine in South America for her mom decades earlier. A dozen diamonds encircle the sparkling jewel. This fourteen-karat gold ring dazzles anyone's eye.
To her, though, the ring is more than a glittering piece of adornment. It is a legacy passed to her from her parents. As she slips the teal blue gem onto her fourth finger, she treasures the tapestry of memories of her parents. They are a part of this memorable night. They role-modeled for forty-seven years the beauty of love, the strength of faithfulness, and the power of commitment. Wearing her family ring reminds this matriarch of her parent's invaluable gift of godly character and strong integrity—a legacy surpassing any real estate or financial package.
Psalm 78:4 commands us to tell the next generation about the praiseworthy deeds of the Lord, His power, and His wonders. When we share our faith with our loved ones, they will put their trust in God. The remaining sixty-four verses describe the results of people who did not trust in the Lord. They became stubborn and rebellious. God became angry with them, His fire broke out, and His wrath arose.
As a grandparent, I desire to pass on a godly inheritance to my descendents. Everyone leaves a legacy, but the question is what kind? Families live in a turbulent world full of terrorism, materialism, and faithlessness. Grandparents have a high calling from God to pass a life-changing legacy of faith in God to our grandchildren.
A distant voice calls, reminding the mother it is time for the wedding. Squaring her shoulders, she walks out of the room and into the night. Shining from her hand is the brilliant reminder of her family legacy, both received and ready to pass.
Leave a godly legacy for those who follow you.
(Photo courtesy of pixabay.)
(For more devotions, visit Christian Devotions.)
---
---