And my God shall supply all your need according to His riches in glory by Christ Jesus. Philippians 4:19 NKJV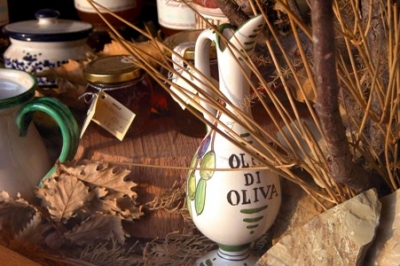 I love this story.
Recently, I read the amazing story of Elisha and the widow's oil again, and found myself visualizing the bottle of olive oil I have in my pantry. I imagined pulling out all the empty mason jars I store in a kitchen cabinet, and thought about pouring my bottle of extra virgin olive oil into one of those jars, and then into a second jar, a third jar, a fourth, and so on. How awesome it would be to see that kind of miracle happen before my eyes.
I haven't been in the same kind of dire situation as the widow in 2 Kings 4. Creditors were threatening to take this widow's two sons for slaves if she didn't pay her debt. The prophet Elisha asks her what she has, and she reports she has nothing in the house but a jar of oil.
Elisha instructs her to borrow empty vessels from her neighbors, and she collects the vessels and fills them all with oil from her one jar. She sells the oil, and the payoff is enough to take care of her debt, securing her sons' freedom and giving her enough left over for her and her sons to live on. God definitely intervened with a miracle of multiplication in this story as He turned one jar of oil into enough to fill numerous empty vessels.
If God can use a jar of oil to pay off the widow's debt and also provide remaining funds for her family, then we should be encouraged that He is capable of multiplying what we have or providing what we need in ways we have not thought possible.
The next time you pull out your bottle of olive oil from your kitchen pantry, remember what God did for this widow and her two sons, and believe He is still in the business of meeting needs above and beyond all we can comprehend and in ways we could not have imagined.
Trust Him to provide.
(Photo courtesy of morguefile and clarita.)
(For more devotions, visit www.christiandevotions.us.)
---
---