Lord, my Rock, I call out to you for help. Do not be deaf to me. If you are silent, I will be like those in the grave. Psalm 28:1 NCV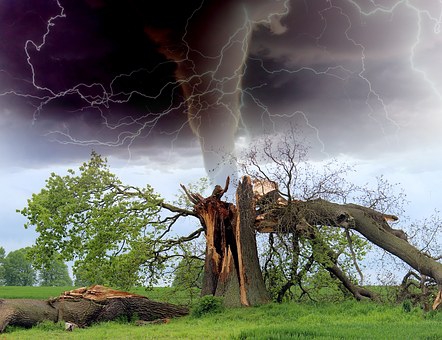 "Lord, what are You doing? Do You care about me?"
Frustrated, I screamed the question one day as I drove from my work as a courier to my Belleville, Illinois, home. I did not move from Minnesota to drive around the St Louis area like a chicken with my head cut off. My career job didn't work out, and I felt as if the Lord took away my ability.

When I got home, a storm rolled in. I watched the weather on television and sprinted to the door to see what was happening outside. At one point, it was so windy I thought a hurricane had struck.

An hour later, a neighbor came home and said, "Look what happened!" He pointed to the missing roof of an apartment building. Remembering my rant a few hours earlier, I felt as if the Lord reminded me that but for His grace that could have been my house.

King Saul chased David, and David probably felt as if God didn't care about him. Just as I thought God didn't care about me. But it wasn't true in either case.

I discovered later that a tornado had struck the apartment building. I thought the Lord went deaf, but I guess He protected me, remaining faithful even when my faith was weak.

Trust in Jesus no matter what happens. He'll keep you safe.
(Photo courtesy of pixabay.)
(For more devotions, visit Christian Devotions.)
---
---