A man who has friends must himself be friendly, but there is a friend who sticks closer than a brother Proverbs 18:24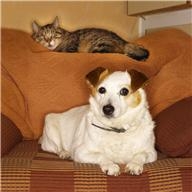 Their initial meeting wasn't pleasant. They immediately recognized they were different and had differing agendas. Each approached the other with no thought of anything but "self." There was no interest in spending time together and they parted ways quickly. (Lord, is this what I do?)
In the days to come, they chose to keep their interactions to a minimum and went about pursuing their own lives. Barbed glares and an attitude of distrust put a distance between them. The message seemed to be, "I can take care of myself; I don't need you." (Do I send this message to people around me?)
No amount of encouragement from me seemed to help, but little did I know that God was about to teach me the real key to forming a friendship. It was a simple thing, quietly done without fanfare. I watched in silence as they came face-to-face one day. One of them took the initiative to reach out, putting aside differences in personalities and agendas. Proverbs reminds us that to have friends means we must be friendly, and that there is one friend who is closer to us than our brothers.
David Grayson said, "Long ago I made up my mind to let my friends have their peculiarities." This seemed to hold true with these two. Friends don't try to change one another's differences. They seek to bring out the best in each other—and then just enjoy the friendship.
Watching this friendship develop challenged my thinking about the relationships I have with God and people. You may be surprised to learn this story of friendship is between Bandit and Eli, a cat and dog. They demonstrated to me that friendship isn't about getting others interested in me, but rather getting me interested in others. (Lord, help me be this kind of friend.).
Humans also have their differing characteristics. The message in today's world seems to be just the opposite. If we want long-lasting friendships, we need to follow God's directions. Be friendly, encouraging, selfless, and willing.
Are your friendships based on worldly standards, or do you let God's Spirit guide you?
(Photo courtesy of office.microsoft.com.)
(For more devotions, visit www.christiandevotions.us.)
---
---