You must obey my laws and be careful to follow my decrees. I am the Lord your God. Leviticus 18:4 NIV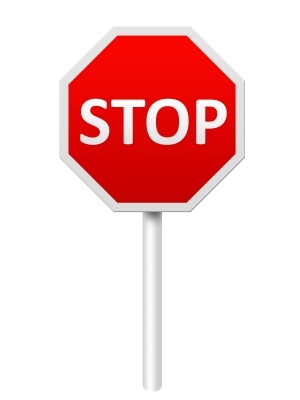 Few things are more daunting than flashing blue lights … and I'm not talking about K-Mart's blue-light specials.
I was in pain, in a hurry, and headed to my chiropractor's office when I blew through a stop sign. It was a small intersection with nothing around, but that was no excuse. I looked up and saw two cars parked in an abandoned parking lot. Instantly, one of the cars zoomed out of the lot. A siren split the air. Blue lights flashed behind me, demanding me to pull over.
Almost in tears, I apologized. Told the officer I was in pain and on my way to an appointment, My assurance that I was a good driver and would never let this happen again seemed to have no effect.
The officer was extremely courteous. Said he understood about pain and chiropractors, and he was glad I was a "good driver." But his reprimand was to the point: "It doesn't matter. You still have to obey the rules."
The incident made me wonder how many times I've gotten in a hurry and blew through the spiritual stop signs God has placed in my path. Those times I've ignored the rules He has set forth in His Word, going my own way and doing my own thing.
The truth is—whether in the natural or spiritual world—stop means stop. And in both realms, consequences follow. Obeying the laws of the land is not a separate issue from obeying God's laws, because everyone must submit to governing authorities. For all authority comes from God, and those in positions of authority have been placed there by God (Romans 13:1 NLT).
Like it or not, God expects us to follow the rules and be obedient. Period. Not because He's a hard taskmaster, but for our benefit. Listening to His voice and following Holy Spirit's lead keeps us out of a passel of trouble.
Thankfully, the officer had mercy and only gave me a warning. Trust me, I won't be blowing through any more stop signs.
Be alert. Listen for God's voice. And always follow the rules.
(Photo courtesy of FreeDigitalPhotos.net and fantasista.)
(For more devotions, visit Christian Devotions.)
---
---