And he said unto me, My grace is sufficient for thee: for my strength is made perfect in weakness. Most gladly therefore will I rather glory in my infirmities, that the power of Christ may rest upon me. 2 Corinthians 12:9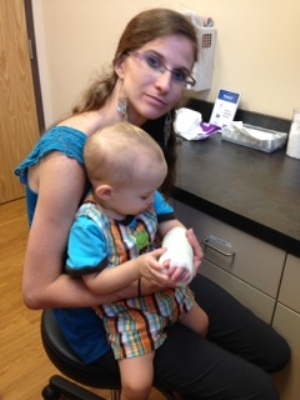 My son carries a two-inch scar in his abdomen, a reminder of emergency surgery needed to repair injuries suffered in a car accident. Although his injuries have healed, the scar remains.
My wife and I carry our own scars from that day, albeit of a different kind. Our teenage daughter was also involved in that accident—taken from this world too soon in our eyes, right on time in God's. I miss my daughter more than words can express. I think of her every day.
We all carry our own scars, don't we? Scars of physical injury, of loss suffered, of wrongs endured … scars of regret or shattered dreams.
I am amazed when I consider the faith of individuals like Horatio Spafford, author of the hymn "It Is Well With My Soul." Spafford's wife and daughters were traveling to England when the ship they were on sunk. Although his wife survived, all four daughters tragically perished. After receiving the heartbreaking news, Spafford set out to join his grieving wife in England. It was during his journey that he penned the following words:
When peace, like a river, attendeth my way
When sorrows like sea billows roll;
Whatever my lot, Thou hast taught me to say
It is well, it is well with my soul.
Spafford somehow found the strength to write those words after such a heart-wrenching loss, and they continue to serve as a reminder of God's presence, provision, and grace.
In 2 Corinthians, Paul spoke of a "thorn in the flesh, the messenger of Satan to buffet me." I don't know what Paul's thorn might have been, but I wonder if it might have had something to do with his past. Having once been a great persecutor of Christians, I imagine Paul often thought of those he had once made suffer. I wonder if their faces—and the memory of what he had done—kept him awake at night. Perhaps it was the regret of his past that became Paul's thorn in his flesh. I'm not sure, but whatever it was ... it was bad enough for Paul to pray three times to have it removed.
Paul, like the rest of us, had scars. And although God didn't remove Paul's thorn, He did provide the grace to sustain him … grace to prop him up during the bad days, to strengthen him for the days ahead, and to remind him that he is never alone.
Our pain is real, our scars endure, and through it all we press on. Thank God for grace. It is sufficient.
(Photo courtesy of Martin Wiles.)
(For more devotions, visit www.christiandevotions.us.)
---
---