"For my thoughts are not your thoughts, neither are your ways my ways," declares the Lord. Isaiah 55:8 NIV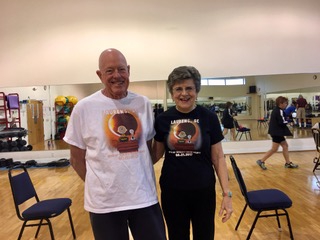 I didn't want to go overseas as a single missionary, but it happened.
I had prayed for a husband, but wanted not my will but the Lord's will to be done. By the time I was in my fifties, I was content and fulfilled as a single missionary teacher. I had a colleague who said she would get married when she retired. I wondered who would want to get married to an old man after living happily independent and free of family responsibilities. I certainly never would.
After becoming a missionary emeritus, I settled into a retirement community. The first day in exercise class I saw him. I had no idea who he was and felt no attraction. Then out of nowhere, the strangest thought popped into my mind: This is the man you are going to marry.
What a ridiculous thought! Where did that come from? I had no idea what kind of man this stranger was. At this late stage, I had no desire to marry. I pushed that unrealistic thought away and forgot it.
Not until much later, after Ted and I had spent quite a bit of time together, did I remember that crazy thought. God revealed to me how He has created the seasons of our lives and has a purpose for each of those seasons.
This fits the pattern of my life—the way God breaks through to let me know His will and plan. Faith backed up by such strong impressions because He does not want me to doubt His will. This is true for each of His children.
Having a long history of walking daily with a personal God, knowing His heart of love, and experiencing His faithfulness is special. He shows us how He can change our thoughts and bring good into all circumstances.
Through faith, experience God's surprises each day.
(Photo courtesy of author.)
(For more devotions, visit Christian Devotions.)
---
---