"O house of Israel, cannot I do with you as this potter?" saith the Lord. "Behold, as the clay is in the potter's hand, so are ye in mine hand, O house of Israel." Jeremiah 18:6 KJV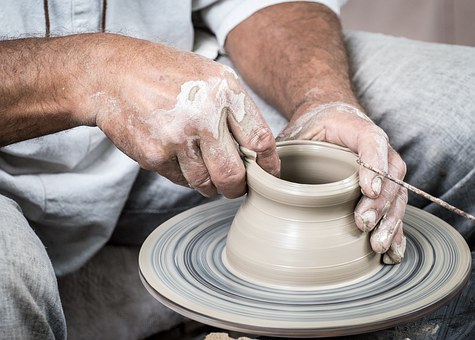 The things in her past brought hurt and pain.
I noticed my friend was not her usual self. When I asked her what was wrong, she told me things from her past that she wanted to forget kept coming up. Because she tried to ignore those things, she felt as if she was rejected, unloved, dirty, lacking, and not good enough.
As I sat with her, I was reminded that we all are clay. Before the potter can make the clay into a vessel worth using, he has to remove the foreign objects.
I told my friend God wanted to make her a vessel of honor—as He did with the nation of Israel. Before He could do that, He had to remove the stuff that was not supposed to be there. Many think the only things God wants to remove are the sins they are doing. But He wants to do more. He wants to remove the hurt, pain, and abuse we have experienced due to our sin or that of others. Anything that comes from sin, God's wants to remove.
Letting God cut out our pains is something we may want to run away from because we are afraid of pain. But in order to become the vessel of honor the Master Potter has designed, we have to let Him cut out the things that don't belong.
The more we experience freedom from the foreign objects—the hurts, pains, and sin—the more we are ready for the Master to use us.
The Potter only wants to make you a vessel of honor fit for His use. He is loving and gentle with the clay.
Don't run from God's molding process. The results are glorious.
(Photo courtesy of pixabay.)
(For more devotions, visit Christian Devotions.)
---
---