But soon a fierce storm came up. High waves were breaking into the boat, and it began to fill with water. Jesus was sleeping at the back of the boat with his head on a cushion. The disciples woke him up, shouting, "Teacher, don't you care that we're going to drown?" Mark 4:37-38 NLB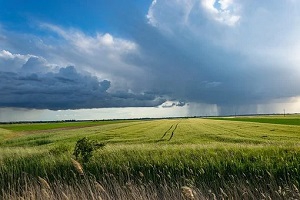 A violent storm descended upon my family.
I was only eight when the storm assaulted the seven of us who lived in a little two-bedroom house. We had no basement, so our parents ordered all five children to crawl under their bed and cling tightly to the springs that supported the mattress. I was not scared at all. To me, it was an adventure as everyone huddled in our make-believe fort on the floor.
As an adult, I have faced worse storms where it felt nothing like an adventure. With health, job, and financial issues, I was terrified and scared, just like the disciples on the lake. When the Covid pandemic swept the globe and caused unrest in the world, many found themselves clinging to their under-the-bed-spring modes of comfort, wanting the painful attack to cease.
When the disciples chastised Jesus for not joining in their panic during the storm, Jesus asked them a question: "Why are you afraid, you people of weak faith?" If our fear comes from weak faith, we must remedy this.
God has the power to calm our internal storms, even if the batteries of this world are in full force. He knows what we lack, and He is willing to give it to us when we ask. Now is the time to seek God to enlarge our faith. As our faith increases, so does our trust in Christ. Soon, faith crowds out fear and anxiety.
I held tightly to the springs under that bed many years ago, but as I've grown older, I realized God held me. As I lie down in His green pastures of peace, rest my head on the pillow of His hope, and climb under His blankets of grace, my eyes succumb to the sweet and deep slumber of a child in the arms of her Father.
If you desire deep sleep during life's storms, ask God to deepen your faith.
(Photo courtesy of pixabay.)
(For more devotions, visit Christian Devotions.)
---
---