If I had not confessed the sin in my heart, the Lord would not have listened. Psalm 66:18 NLT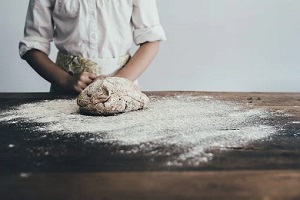 I found weevils in my kitchen cabinet, and guests were coming to spend the night.
I still had to dust, vacuum, take out the trash, glue the broken lamp, change the sheets, wind the cat, and feed the clock (or was it the other way around?)—no time to deal with the pests in the flour. No one would know. The little beetles would stay hidden. The important thing was that our home presented a pleasant appearance for our company.
Whoa! I suddenly felt something tug inside me. I would know about the creepy-crawlies and would feel like a hypocritical hostess. Wrestling with my options for a moment, I reset my priorities and took time to wage war on the weevils before dealing with the obvious chores.
That heart-tug was God's message. Nothing is concealed from Him that will not be made known.
If Jesus had told The Parable of the Weevils, He would have interpreted it that sin hidden in my soul, even though no one else can see it, keeps me from His ear and His heart. If I have weevils in my spiritual flour, my prayer dough won't rise.
I love the way the Lord communicates His messages to us in such everyday terms. I needed to clean up my internal spiritual compartments before worrying about outward appearances. Trying to hide something from Him just doesn't work. It hurts me, not Him.
We can start our spiritual neatening by owning up to our sloppy housekeeping and allowing God to come in and show us the internal parts that need to sparkle. Once we've let Him come into the cabinets and drawers and put them in order, we can work on the foyers and living rooms and guest rooms to get our spiritual house in order and ready for His company.
Make sure you are cleaning from the inside out—that's Jesus' order.
(Photo courtesy of pixabay.)
(For more devotions, visit Christian Devotions.)
---
---