The Lord is my light and my salvation; Whom shall I fear. Psalm 27:1 NASB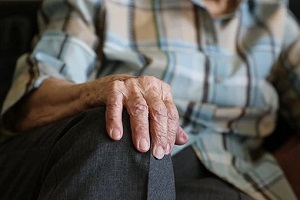 My mother was going blind in her one remaining eye.
After a long life of serving Jesus, my mother was robbed of sight in one eye by a nasty strep infection. Surprisingly, she kept serving the Lord in the jails of Central California as the first female chaplain in Fresno County's history. Fear often overwhelmed her, but she placed it in Jesus' hands and pressed on.
Later, she lost my father to heart failure but again pressed on. Having become one of the founders of The Valley Mission of Central California, my dear one-eyed mother spent hours each day on her knees praying in our small bathroom.
My mother's prayer life frightened me when I was young. On a few occasions, I came home from high school just as she emerged from praying. A glowing light surrounded her. Living with my mother taught me about the reality of the Holy Spirit's presence and healing ability.
Yet years later, this dear handmaiden of the Lord was in danger of going blind in her one remaining eye. She was frightened primarily because she would no longer be able to read her Bible. Even in this circumstance, she continued to teach me. She taught me that her soul was not blind but full of light.
When she passed on—with my three professional sisters in attendance—my nurse sister testified that the room filled with golden light for several blessed moments. Then, Mom made it safely home, and the room became dim.
Because my mother struggled with blindness, I tried to write what she had taught me: "A man blind to there being a God is a man who trips and falls. He uses walls to hang on to as he tries to make his journey safe. A man who refuses to look into the heavens is a nearsighted man, blind to what is coming. This man is blind from birth and cannot imagine a sunrise. He tries to lift burdens without a fulcrum. Those without faith's light live a life without God's power and grace. They are impotent."
So, keep looking up and pressing on with your eyes on Jesus' beautiful face, and the things of earth will grow strangely dim.
(Photo courtesy of pixabay.)
(For more devotions, visit Christian Devotions.)
---
---