For even hereunto were ye called: because Christ also suffered for us, leaving us an example, that ye should follow his steps. 1 Peter 2:21 KJV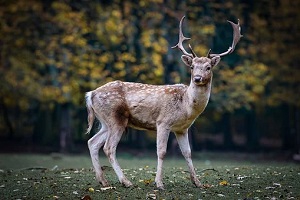 Everyone should have asked where they were going, but no one did.
Rather than gathering information, the herd of deer followed their leader over the bridge railing to the highway below. After the one-hundred-foot drop, there were no survivors. Onlookers stood around, wondering how this could happen. Why would a herd of deer follow the one in front without knowing where he was going and then jump off a bridge to their death?
Similar scenes play out countless times worldwide, especially in cold weather and in high traffic areas. Panic is the only answer. Most of the deer probably didn't know what spooked the big buck to make him run. They panicked, thinking they were in danger, and rather than running across the bridge into the woods, they followed him and bounded over the side.
But this story isn't all about wildlife. I'm sure if the leader could do it over, he would make a better decision. Nevertheless, one moment of abject fear led to the demise of all those following him.
We should consider who is following us. We can either sprint blindly away when Satan comes on the scene or unknowingly hasten our death or that of others. Even if those following us survive our actions, our actions say something about us and fear. Weak faith affects our testimony and doesn't strengthen anyone else's faith. What we've done in the past won't matter. In a split second, we can destroy other's confidence in us—a decision that could cost them their life spiritually or physically.
We should live so that we are an example of what a true Christian looks like, leading others in the paths of righteousness, not over the side of a bridge. One thing is certain. Others will follow a leader.
Be a leader worth following.
(Photo courtesy of pixabay.)
(For more devotions, visit Christian Devotions.)
---
---