You are the salt of the earth. Matthew 5:13a NIV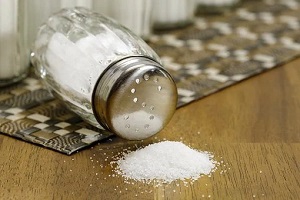 My friend and I enjoyed a leisurely breakfast in the restaurant of a recently opened hotel.
Fresh green spinach peeked from the tantalizing omelet adorning the plate before me. My mouth watered, seeing the melted cheese oozing from this egg dish. My first bite set off an explosion of delight on my taste buds. Only one thing could have made this omelet better—a dash of salt.
I reached for the clear shaker and sprinkled salt on my omelet. At least, I thought I was sprinkling salt. But nothing came out of the shaker. Obviously noticing my frustration, the waitress approached and apologized. She explained that the shakers were new but defective. They looked great, but the holes in the tops of each shaker were too small to allow the salt through. What good is a saltshaker that will not dispense salt? I unscrewed the cap, poured salt into my hand, and took a pinch between my fingers to sprinkle on my food.
While the thought of a saltshaker that won't shake salt seems ridiculous, the equivalent happens for believers regularly. We have the appearance of being Christians who are filled with the Good News, but we fail to sprinkle that content on the world around us. We're not effective as God's salt when we are not spreading the truth we contain.
Think of ways you can be a saltshaker, not simply a salt container.
(Photo courtesy of pixabay.)
(For more devotions, visit Christian Devotions.)
---
---