Religion that God our Father accepts as pure and faultless is this: to look after orphans and widows in their distress and to keep oneself from being polluted by the world. James1:27 NIV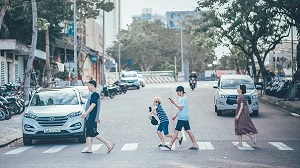 As I parked at the grocery store, a young mother, father, and their three little ones stood on the corner with a cardboard sign that read, "Out of work. Please help."
While I shopped, I purchased extra food and treats to give to the family. But as I drove past the corner, they were gone. I drove around looking for them for a few minutes but never saw them again.
I asked God why He would put it on my heart to help those people but then not provide the opportunity. I realized it was my will, not His. God doesn't expect us to assist every homeless person we see or every needy beggar on the street corner. Yet we should always be willing and ready.
We live in different times than when the Bible was written. Sadly, in our world, scammers who wear ragged clothing and ask for money get into their cars and drive to nice homes at the end of the day. They're nothing more than con artists. Why anyone would choose that difficult and humiliating way of life over honest hard work is beyond me. But they detract from the truly needy, the injured war veteran, and the mentally disabled who cannot find work and are forced to beg to survive.
When we're living in faith, the Holy Spirit moves us to do what is right and just and to care for those in need. When we keep our side of the street clean and our hearts in tune with God's desires, we desire what He desires. He prompts; we act.
The next time you see someone in need, ask God for guidance. If you are living in faith, you will hear and obey.
(Photo courtesy of pixabay.)
(For more devotions, visit Christian Devotions.)
---
---