He said to me, "This water flows toward the eastern region and goes down into the Arabah; and when it enters the sea, the sea of stagnant waters, the water will become fresh." Ezekiel 47:8 NRSV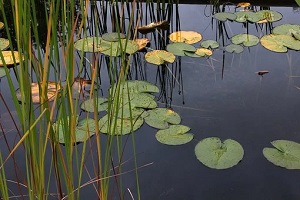 When I was ten, I drank stagnant water.
For a couple of years, our family lived in a farmhouse with a cistern on the back porch. A tanker truck from town filled it with water when the level was low. The truck driver removed the big concrete lid, and my little brother and I peered down into the deep round shaft. Once, we saw a dead rat floating in the tank. This was the water we consumed.
I became ill. The doctor gave my mom instructions after several visits to his office: "Get your water tested." The analysis revealed our water was unfit for human consumption.
I have also been through periods of stagnant spiritual living. My Bible readings were dull, my prayers listless, and my meditation and worship monotonous. God was patient and loving with me and said, "Get your water tested." I realized my consumption of stagnant water robbed me of the joy of my salvation.
I confessed my boredom and lack of enthusiasm for Christ. He put an end to my apathetic condition by pointing me to a new Bible study, prayer group, book, music, art, and mission. Suddenly, I gained a new understanding of Scriptures I had read many times before. Or He opened a different door for His work. In God's green pastures, my stagnant soul was renewed by His water of mercy, grace, and love.
The difference between fresh water and stagnant water is monumental. Once our family started drinking fresh water at the farmhouse, my health improved. When I allow God to change my perspective, I drink from His clear-flowing fountain. My spiritual health improves, and my joy is complete.
If you feel somewhat stagnant spiritually, get your water tested.
(Photo courtesy of pixabay.)
(For more devotions, visit Christian Devotions.)
---
---