Because of the Lord's great love, we are not consumed, for his compassions never fail. They are new every morning; great is Your faithfulness. Lamentations 3:22-23 NIV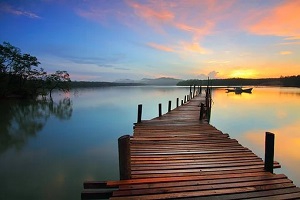 As the sun rises over the water through my office window, it brings good-morning kisses from my heavenly Father.
Like walking into an art exhibition, I find myself face to face with the artist and His newest masterpiece. The wonder and beauty leave me breathless, stunned. Each day, the sun sneaks down the lake a little closer toward our house—or farther away, depending on the season. It cannot stand still.
In June, it climbs directly over our dock in the wee morning hours, reminding me that mid-summer is here. As warm days slip away, the sun creeps to the right, to the south, to hide behind our neighbor's trees. Then, after all the autumn leaves have fallen, the sun boldly shines through bare trees into my window.
On one rainy November morning, I looked out my window and saw ducks, hundreds of them, flying just inches above the lake's smooth surface, like an army of ants crawling in formation along the top of the water. Raindrops near the house nudged the last leaves off the branches of tall trees, creating a damp blanket of golds and browns on the hardened ground.
Watching sunrises and listening to autumn rainfalls remind me that nothing stays the same. God, the instigator of seasons, continually alters His creation, His universe. Parades of sights and sounds reflect His glory.
Praise God that He never changes. He will always be God—our Creator, Sustainer, Provider, Artist, Eternal Change-Agent.
I plan to reflect on the beauty of all the changes God brings me today. I hope you will too.
(Photo courtesy of pixabay.)
(For more devotions, visit Christian Devotions.)
---
---