How great is the love the Father has lavished on us, that we should be called children of God! And that is what we are! 1 John 3:1 NIV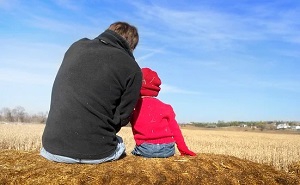 "I wish I had a father."
Gene spoke these words poignantly as memories of his past stomped around in his mind.
It was Father's Day, and my daughter had brought a gift and a card to my husband, her stepfather. Gene appreciated the visit, knowing my daughter had worked that day but took time to visit.
Later in the evening, Gene made the wistful comment about wanting a father. At the age of seventy-nine, that may have seemed a strange comment.
Gene's father was an alcoholic. His parents divorced when he was five. Later, his mother remarried, and Gene's stepfather was also an alcoholic. He abused Gene physically and verbally.
Gene's stepfather was a logger. On many days, when Gene should have been in school, he cut and loaded large heavy logs instead. When he was seventeen, he ran away from home rather than face more abuse.
Now in his senior years, Gene's thought of a loving earthly father was wishful thinking. He longed for what he never had.
Sadly, many people have not been blessed with fathers who loved and cared for them as they grew from infancy to adulthood. Their memories may not include an earthly father ever being present in their lives.
But there is a Father who wants to be involved in every facet of everyone's life. He knows everything about us, and He knew us before we were born because He knitted us together in our mothers' wombs.
God the Father loved each of us so deeply that He sent His only Son, Jesus Christ, to die in our place that we might have eternal life and the assurance of living with Him forever.
Will you accept the Father's sacrificial gift of His Son?
(Photo courtesy of pixabay.)
(For more devotions, visit Christian Devotions.)
---
---