The Spirit you received brought about your adoption to sonship. And by him we cry, "Abba, Father." Romans 8:15 NIV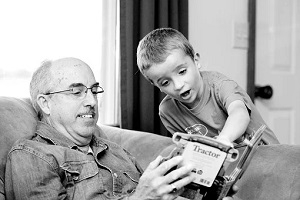 Our three-year-old great-nephew, a daddy's boy, heard a loud contented "ahhh" from his grandmother. With a typical preschooler's curiosity, he looked around and yelled, "What? What?"
"Aren't the clouds beautiful?" she said.
Already going through an extended fascination with clouds, Kaleb asked, "Nanny, did God make those clouds?"
"Yes, He did," and she smiled as she usually did at the questions his little mind spun.
Next came, "Nanny, is Jesus with God?"
"Yes, He is." Her smile grew.
With wheels still turning, he pressed, "Is Jesus God's boy?"
As she assured him that Jesus was, her heart thrilled that this little miracle enjoyed the unconditional love and acceptance of his earthly father and had begun fitting the pieces together about the greater love of his heavenly Father.
What a powerful legacy for any child to know such love. Although in its rudimentary stages, Kaleb found it far easier than many children and adults to believe that God is love.
As Kaleb matured, so did his ability to grasp the price God paid so each of us can claim Him as Abba Father—a Daddy who will never fail nor forsake His children. We celebrated the day he chose, freely and completely, to accept that claim of sonship—when he understood as never before just what it means to be God's boy.
If we don't know from experience what it means to be God's child, we can by accepting His gift of forgiveness and acceptance into His family. If we do know Him, we should follow God's call to share with others who need to experience God's unconditional and transforming love.
Do you know what it means to be God's child?
(Photo courtesy of pixabay.)
(For more devotions, visit Christian Devotions.)
---
---