But God demonstrates His own love toward us, in that while we were yet sinners, Christ died for us. Romans 5:8 NKJV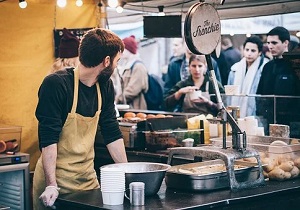 After ordering our fast food through a microphone, we crept up the line inch by inch.
I complained about how slow the fast food was and about how the order probably wouldn't be right anyway. I rehearsed how many times I had looked into those paper bags after driving away to find something was missing or not what I had ordered.
Our turn finally arrived, and the food attendant stuck her arm through the fold-out window with bags and condensation-covered drinks. My husband produced money, but the attendant said, "It's already paid for. The person in the car in front of you paid your bill."
I felt like a heel. After all the grumbling I had done, someone's generosity blessed me.
The Bible warns us about grumbling. The Israelites paid a heavy price for it. But despite my complaining, I was blessed because of a person's generous heart.
While we were yet sinners, Christ died for us. He was in line before us with a purpose: to pay the debt we owed with the currency of His blood. While we complained, sinned, and murmured against Him, He paid the ticket.
The person who paid for our food was a stranger, yet they paid our bill to the restaurant. If they had known us, they could have refused to pay for our meal because of my complaints. But Jesus knows us. He knows our heart and the sin that needs removal. And He still pays the bill.
We may grumble and complain about life. We sin and get in trouble. We feel like we don't get what we want when we want it, as I did in the slow fast-food line. We could have refused the food that was already paid for. But it would be unbelievable to refuse a freely given gift.
Redemption was paid in the body of Jesus. Our part is to reach out and receive it from the hands of the Father. Our meal tasted even better because of the blessing that accompanied it.
Taste and see that the Lord is good. Your bill has already been paid.
(Photo courtesy of pixabay.)
(For more devotions, visit Christian Devotions.)
---
---