Like a baby content in its mother's arms, my soul is a baby content. Psalm 131:2 MSG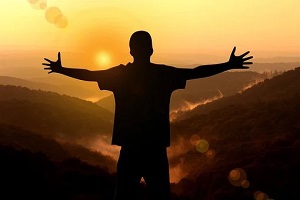 I settled down to pray in my room at a retreat center.
I replayed in my mind the lyrics I had sung during my one-hour drive. I felt frustrated and confused. Why did so many songs describe the tenderness and comfort of being held by God? I sang the words, but I didn't share the experience. Were they just nice-sounding words or did people know God's embrace as more than just a lyrical metaphor?
I worried that maybe Jesus didn't want to hold me. I took a risk and prayed, "Jesus, I want this to be real for me, but I have no idea how. If I can't physically see, hear, or touch You, how can I know what it feels like for You to hold me?"
Then I imagined a mother sea otter nestling her pup. I sensed Jesus inviting me to imagine myself in the place of that little pup. I felt the mother otter's paws wrap snugly around me. The steady rhythm of her heartbeat and the gently rocking waves soothed my ruffled emotions. I heard her soft cooing close to my ears and the noisy calls of seagulls overhead. I tasted the tangy saltiness of the breeze. I felt sheltered—that I belonged. Was this furry embrace the answer to my prayer?
"Jesus, is this how it feels to be held by You?"
"It's one way, my child."
"It's a good way, Jesus. I like it. Thank You for this gift."
God engaged my imagination to open a door to a tangible experience of His love, holding me close to His heart. I felt His tenderness toward me. God has painted pictures of His faithful love for us throughout His creation: the stars, the mountains, the seas, and even mama otters.
Open your eyes and your heart and receive God's loving embrace in whatever form He has for you today.
(Photo courtesy of pixabay.)
(For more devotions, visit Christian Devotions.)
---
---