And the Word became flesh and dwelt among us, and we beheld His glory, the glory as of the only begotten of the Father, full of grace and truth. John 1:14 NIV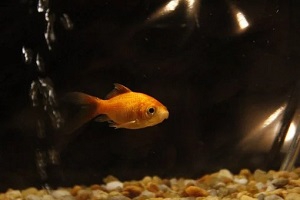 Many of us remember the colored rocks, the coral-looking arch, and the globe-shaped bowl. Add water, and we created a goldfish world.
For many of us, our first pet was a small, bright orange fish that circled tirelessly in its clear glass home and ate as often as we fed it.
As a youngster, I enjoyed watching my submerged pet swim, patrolling its little world with an occasional race around the perimeter. Yet these easily managed pets don't get much respect. They don't learn tricks as dogs do, and their funerals are often accompanied by a flushing sound. With all this inferiority, I find one characteristic endearing about these underwater creatures: their extensive dependence upon humans.
Other pets exercise a degree of resourcefulness in getting food or shelter. But goldfish can't forage through our neighbor's garbage, nor can they seek out any other shelter but their little sea of tranquility.
Goldfish are also verbally challenged. They can't talk to us or understand our smallest request or command. I would have loved to jump into that little bowl and introduce myself or teach my goldfish something.
What goldfish do have is a life that in many ways reflects ours. We like to think we are self-reliant and in control, but we rely heavily on forces beyond ourselves. God's hands hold our lives. He provides our home, our world, and all that sustains us.
And God did jump into our world to talk to us. Jesus Christ came as one of us to introduce Himself. He wanted us to know Him. He wanted us to know we aren't pets, but precious children whom He loves and cherishes.
Through worship, we celebrate a faithful God who provides for all our needs and meets us face-to-face. We press our face against the glass of our little world and see our Creator. We hear His voice through the Scriptures as He introduces Himself. As we worship, we listen and speak to Him from our heart.
Have you learned that life is more than swimming in circles?
(Photo courtesy of pixabay.)
(For more devotions, visit Christian Devotions.)
---
---