In the same way, the Spirit helps us in our weakness. We do not know what we ought to pray for, but the Spirit himself intercedes for us through wordless groans. Romans 8:26 NIV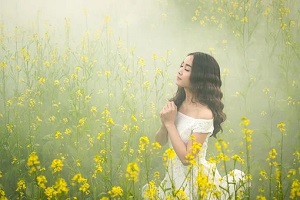 "Want cinnamon roll on potatoes?"
"What?" I questioned my just-turned two-year-old granddaughter on her unusual request.
"Cinnamon roll … on potatoes!"
"Sissy, I don't have any cinnamon rolls, and anyway, we don't eat cinnamon rolls on potatoes."
Fortunately, Sissy's older and wiser four-year-older brother interpreted, "She means sour cream. She wants sour cream on her potatoes."
Ahhh. Request granted.
I identify with Sissy's communication calamity. Words sometimes fail me when I make my requests to God and when my good intentions to pray fizzle out. Like my granddaughter, I need an interpreter, and I have one in the Holy Spirit.
When my mother died, words could not express my grief. My mind could not articulate the immense horror of a loved one who committed suicide. And words were lacking at the end of an exhausting day of diaper changing, laundry, and cooking for my terminally ill mother-in-law. At such times, knowing the Spirit understands and interprets brought great comfort.
We can rely on the Holy Spirit within to clarify our feelings to God our Father when we feel discouraged, empty, and unable to describe our heart-felt emotions. We can talk to Him, not worrying about our word choice, and know He hears and understands.
Thanks to her older brother, Sissy enjoyed her potatoes with sour cream, not cinnamon rolls. And I am trusting my heavenly interpreter to make sense of my words when I feel weak, overwhelmed, and confused.
Take all your needs and emotions to God.
(Photo courtesy of pixabay.)
(For more devotions, visit Christian Devotions.)
---
---