"Where is your brother? Where is Abel?" "I don't know," Cain responded. "Am I my brother's guardian?" Genesis 4:9 NLT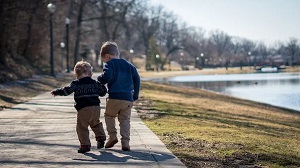 I dread the day I will lose my brother.
My brother is four years older. Growing up, he was always there for me. We made up games together. Our imaginations had no limit. We collected baseball cards. We played army with friends in the neighborhood and romped in the woods nearby. He taught me everything I know about baseball, football, and basketball. As young adults, we played softball and basketball. Now, being older, we play golf together.
As an ordained minister, I had the honor to marry him and his wife. We have always had a good relationship, and I always try to let him know how much I love him. I cannot imagine my brother not being near when we need each other.
Cain and Abel had a different relationship as brothers. Animosity existed between them. So much so that Cain killed Abel over petty jealousy. I can't comprehend this.
My brother and I were raised to love and respect each other. I am my brother's keeper. I should have his welfare close to my heart. But I should have the welfare of others close to my heart also.
Jesus says we should love our neighbors as we love ourselves. We can love everyone through the love that God has shown us. After all, we are not perfect, yet God loves us unconditionally. Sometimes, loving others is hard, but doing so is what God tells us to do.
Ask God to help you love others as He does you.
(Photo courtesy of pixabay.)
(For more devotions, visit Christian Devotions.)
---
---