He has sent Me to heal the brokenhearted. Luke 4:18b NKJV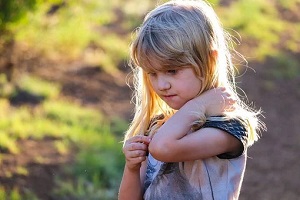 Oh, the miracle of a kiss on a boo-boo.
I remember being little and getting a cut on my finger. I raised that chubby finger and ran to my mom. She always knew what to do. She gently cleaned it, put on a Band-Aid, and gave it a kiss. We weren't done until my hurt had been kissed. There was magic in that application of compassion and love. It made the pain go away.

We have all seen a toddler with a boo-boo do the same thing as I did. If the wound isn't treated, the tiny nick can continue to hurt and bleed. Each time it is touched or bumped, the child is reminded of the pain. And an untreated wound can become infected.

People all around us have un-kissed boo-boos. They are hurt, afraid, or sad. They go through life fearful of being hurt again, looking for someone they can trust to love them and help heal their wounds.
Difficult people often behave that way because their untreated wounds still hurt. And what we chalk up to foolishness, delusion, evil, or a flawed character can be an inner child with a wound that was never cleaned and a boo-boo that was never kissed.
The heart of God is tender toward His children. His desire is that all would come and be healed. We can be God's hands, feet, and heart to a hurting world.
Ask God to touch your eyes so you can see beyond bad behavior and discover hurting, confused, and frightened children who long to be comforted.
(Photo courtesy of pixabay.)
(For more devotions, visit Christian Devotions.)
---
---