For the evildoers shall be cut off, but those who wait for the Lord shall inherit the land. Psalm 37:9 ESV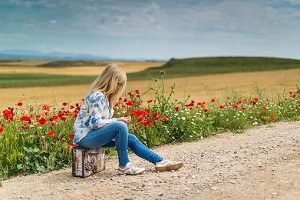 "I'll be home before dark, my special girls," Grandpa said, bending to kiss the top of Grandma's head.
My sister and I smiled as we finished our breakfast, anticipating the ice cream treat he'd promised us. We waited for Grandpa on the front porch. The squeak of the swing kept us company as Grandma sang our favorite songs. Our spirits soared as we discussed which flavor of ice cream Grandpa would bring us.
The beauty of the sunset hushed us momentarily. Darkness drifted in stealthily at first, but it was fully oppressive in its finality. Anxiety invited the what-ifs. Hadn't Grandpa promised to be home before dark? What happened?
Tension grew as we watched Grandma force smiles through stiff lips between hurried glances at the horizon. We heard the silent message, we should worry, loudly and clearly. We no longer anticipated what Grandpa would give us. Our hearts turned to wanting to see him home safely.
Suddenly, Grandpa's rust-red truck burst over the hill. Relief flooded us. Why the delay? I still don't know.
The Hebrew word for wait and hope are the same. When we wait, we hope. The waiting with expectation opens our hearts to hurt. When we receive what we think is the lesser thing—or worse yet—when life is immersed in pain, it's hardly the ice cream treat we hoped for. Doubt seeps in. Does God love us? Why the delay?
Maybe the delay is about pressing into the goodness of the Lord. To press out our desires and long for the greater thing: His presence.
Our earthly desires, the ice creams of our hearts, do not compare to the security of knowing who God is—our Father. The spiritual security of knowing we are His children, who can safely trust in His provision, is priceless.
Press in and allow your heart to turn from what you hope for to fully engage in a relationship with Your Lord.
(Photo courtesy of pixabay.)
(For more devotions, visit Christian Devotions.)
---
---