Look at the birds of the air; they do not sow or reap or store away in barns, and yet your heavenly Father feeds them. Are you not much more valuable than they? Matthew 6:26 NIV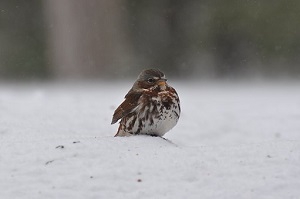 In 1905, Civilla Martin wrote a song entitled His Eye Is on the Sparrow.
Whitney Houston sang the song beautifully many years later. It became my dad's favorite hymn. Every time I sing or hear it, I think of my dad and thank God for God's faithful provision.
One evening, my husband and I were driving home through a winter storm. When we started, the roads seemed okay. But the closer we got to home, the worse they became. I was nervous and jumpy. Whenever my husband would apply the brakes, I'd grab the side of my door.
Then I received a text from a friend who knew we were on the road, asking if we were home yet. I replied that we were not and that I felt as if I were either going to burst into tears or get sick—or both. My friend sent the symbol of praying hands in her next text. I was humbled and thanked her.
The next morning, while sitting at the table with my warm cup of cocoa and my phone, I saw a tiny sparrow land on the snow beneath our bird feeder. Did he worry about the falling snow all around him? No. Did he worry that we might not replenish the feeder? He didn't.
If God takes care of a tiny little bird, why should I doubt His provision for me?
Give thanks for God's ever-present, precautionary, and provisional hand over your life.
(Photo courtesy of pixabay.)
(For more devotions, visit Christian Devotions.)
---
---