Your hands made me and fashioned me. Psalm 119:73 NASB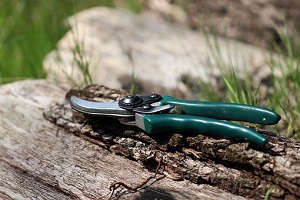 I clipped unmercifully at the evergreen plants in the pot sitting on the patio.
The plants were overgrown and needed major pruning. They resented it. For weeks, they continued to drop brown needles onto the tile floor and look as though they were dead and didn't intend to flourish again.
Weeks passed before I saw new budding. Still sparsely clad in the brown of mourning, they offered me hope with a slither of green. I was relieved. I thought they may not live, but now they brought forth new life. The pruning worked.
I've been pruned before—so much that I didn't want to revive my life. In retrospect, I realize I was overgrown with the desires and wants of this life. The brown, dead needles that stunted any spiritual growth had embedded into the branches of my life, zapping all nourishment necessary for growth.
A major pruning was the only alternative. God did that. I didn't like it, and I appeared dead for a long time. I felt stripped and barren of all I had known in my life.
Eventually, without realizing it, signs of new life sprouted. My life took on a green color. The Word of God became my nourishment as God watered and fed me with His promises.
I didn't prune or water myself. I didn't want to. But the Pruner saw the need and rid me of the dead life that existed. What a joyous event when my branches sprung forth with exuberant life. The buds became full foliage, and the beauty of my soul belonged to Him.
How could I have possibly survived without His pruning?
If the Pruner sees the need, let Him prune you.
(Photo courtesy of pixabay.)
(For more devotions, visit Christian Devotions.)
---
---