Don't store treasures for yourselves here on earth where moths and rust will destroy them and thieves can break in and steal them. But store your treasures in heaven where they cannot be destroyed by moths or rust and where thieves cannot break in and steal them. Matthew 6:19-20 NCV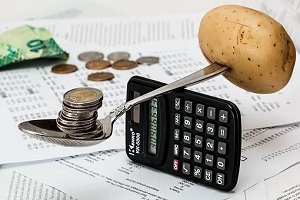 A popular area in my town is dotted with fancy restaurants.
I don't have a lot of money—I live paycheck to paycheck. Sometimes, I would love to go to these nice restaurants. Maybe even take a date or friend to dinner. But when I looked at their menus, I discovered there was no way I could go based on my salary. I am also thankful that the company I work for orders lunch for us from a fancy pizza place in the area.
I should not be sad or jealous about not going to a nice place to eat. I should be interested in the things of God. I must remember that while those expensive things may make me happy for a time, they won't last, especially if it's food.
Jesus offers two options. He says we can either store up treasures in heaven where they will be safe or store them on earth where moths and rust will destroy them. He says to store them in heaven.
Although I can't afford a fancy diner or the finer things of life, I can help support a missionary in a foreign country who will bring eternal life to the lost. We need to value the things of Jesus with our money and build our treasure in heaven.
Let God help you re-evaluate what you are spending your money on.
(Photo courtesy of pixabay.)
(For more devotions, visit Christian Devotions.)
---
---