A new command I give you: Love one another. As I have loved you, so you must love one another. By this everyone will know that you are my disciples, if you love one another. John 13:34-35 NIV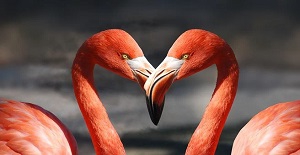 We respond to new things differently.
How we respond depends on what we're responding to. A new season of our favorite TV show. A new book by our favorite author. A new college course to teach. A new restaurant nearby. A new company policy. New eyeglasses. A new commute to work.
How about a new commandment?
Alone with His disciples, Jesus had much to tell them before He returned to heaven. "My children, I will be with you only a little longer … where I am going, you cannot come. In my place, my Father will give you another comforter to be with you forever. I will not leave you as orphans."
He also said, "I'm about to give you a new command."
Say what, Jesus? Another commandment? Don't we have enough already?
"Here it is, fellas. You are to love each other."
No offense, Jesus, but love isn't exactly new. "Love the Lord your God with all your heart and your neighbor as yourself" is as old as Moses.
"Okay, fellas, here's what's new. You are to love each other the same way I have loved you. In fact, from now on, the sign that you belong to Me will be My love in you for each other."
Jesus provided Himself as the embodiment and the standard of divine love. He prepared His followers for love in a new dimension—namely, Christian love. His disciples were to love each other, not merely as Jewish neighbors, but as Christians.
Old Testament scholar, Christopher Wright, spells out what this love entails: "When we love one another as Christians, it crosses all our differences and barriers. It's more than sentimental feelings of being nice. It shows itself in practical, down-to-earth caring, providing, helping, encouraging, and supporting one another, even when it costs a lot or hurts a lot to do so. This love brings people together who would otherwise hate, hurt, and even kill one another."
No one can see God as He is, yet everyone can see Him in the new dimension of Christian love. Same love, new dimension. Down-to-earth and strikingly visible.
Ask God to help you make love in a new dimension happen.
(Christopher Wright, Cultivating the Fruit of the Spirit: Growing in Christlikeness (Downers Grove, IL: InterVarsity Press, 2017), 24.)
(Photo courtesy of pixabay.)
(For more devotions, visit Christian Devotions.)
---
---