There is no fear in love. But perfect love drives out fear, because fear has to do with punishment. The one who fears is not made perfect in love. 1 John 4:18 NIV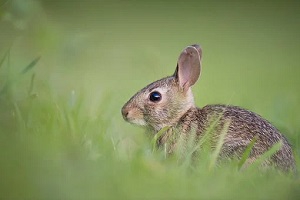 The fluffy bunny caught my eye.
At first, it just sat there, staring at me. It could have passed for a lawn ornament. Gazing intently at me as I strolled closer, nerves finally won over, and away it hopped. Fast. I mean, really fast. Poor thing. I never saw anything move so quickly. It was scared. First, frozen in fear. Next, fleeing in fear. I said aloud, "No little bunny! It's all right. You have nothing to be afraid of." As if it could understand me.
My promise to the bunny was of no use. The little ball of fur was out of there. It didn't know I was just going to walk on by. I wasn't the enemy, nor a predator.
What struck me most was that even though I knew I'd never hurt it, the bunny didn't know the same. Given the chance, I would've loved it. I knew my intent and it was good. But to the bunny, I was dangerous, even though nothing was further from the truth.
During the rest of my walk, I couldn't help but wonder how many times I let fear, instead of God, control my life. How often did I sit paralyzed? How frequently did I run away? Had I ever reacted like the bunny, missing out on something good?
Bunnies don't have the capacity for love the way humans do, so it had an excuse. I didn't. If I love my Father in heaven, why would I be fearful? If I know He loves me, why don't I trust His intent?
The truth is His perfect love casts out every single fear. God is in control of the situation. He knows we have nothing to be afraid of.
Perhaps, we often feel like the bunny. We sit frozen in fear. Or we want to flee in fear, instead. But sometimes we are scared of something that isn't scary at all. The fear driving us to freeze or flee is not real. God's intent for us is always good. He wants to love us.
Ask God to help you trust Him when your fears are unfounded.
(Photo courtesy of pixabay.)
(For more devotions, visit Christian Devotions.)
---
---