But when I thought how to understand this, it seemed to me a wearisome task, until I went into the sanctuary of God; then I discerned their end. Psalm 73:16-17 ESV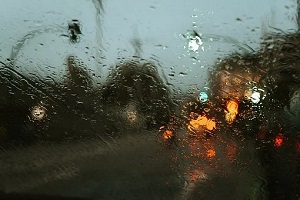 It happened again.
I got behind a semi-truck, and the road spray from his tires flew up on my windshield. My vision momentarily clouded, I activated the windshield washer on my car, and the wipers swayed across my window. Then the message popped up that I needed to refill the windshield washer fluid.
I needed to recharge the washer fluid reservoir so that the fluid could dissolve the dirt and mud on my windshield. Without this, I would drive with difficulty, hardly able to see where I was going. The dirty window in front of me clouded my vision.
We take visibility—both physical and spiritual—for granted. We think we can see far enough ahead until something comes into our life that makes us re-examine ourselves. It could be an illness, a job setback, or something that happens to our spouse and children. Or that our vision gradually clouds over time from lack of spiritual input.
Asaph had a similar problem. He struggled with the wicked always getting ahead in life. Although he did not want to believe it, he looked through fogged lenses. Only after Asaph went back to God and His sanctuary did he get the right perspective on life and God's plans for it.
We get God's perspective on what we go through by reading and meditating on His Word. In it, God reveals a clear picture of His nature as well as His plan for our lives. When we think we can manage without spending time in the Bible, our thinking becomes cloudy, and we lose our heavenly perspective.
What can you do today to plan for a consistent intake of God's Word? Maybe you need to clean your spiritual glasses so you can see God as He is.
(Photo courtesy of pixabay.)
(For more devotions, visit Christian Devotions.)
---
---