The Lord came and stood there, calling as at the other times, "Samuel! Samuel!" Then Samuel said, "Speak, for your servant is listening." 1 Samuel 3:10 NIV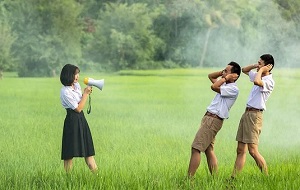 Some have been accused of having selective hearing.
Many husbands have been diagnosed with this condition. The pant of a buck at one hundred yards is loud and clear, while a call for assistance from the kitchen finds many men deaf. What's at work here is not an intermittent physical malady but a listening filter.
Our minds and hearts tune in or ignore sounds. These noises might not always be measured in decibels but can harden our hearts. We allow the drumbeat of our world to drown out God's message.
It seems bizarre yet amazing that Samuel heard God calling him. We often say God has spoken to us through the Bible, an inspired song, or an insightful sermon, but rarely have we asserted that God spoke audibly. Some have probably asked God, politely, of course, to speak out loud, but history and experience tell us aural messages from our Maker are a rare occurrence.
Oh, that we could step into the quiet and filter out the cacophony of clatter that fills our world. It seems our efforts toward quiet are characterized more by baffling noise with more noise.
Congregational worship is not sound-dependent. We need to bring back quiet moments to our congregational worship. Faith-family worship is when we gather before God with humble hearts, and the world switch is turned to the off position.
We don't have to seek the Samuel-event, just the Samuel-condition. Too often, we approach worship with the frivolous clamor of this world still echoing in our minds and hearts. Congregational worship is not an attempt to drown out the world as much as it is pointing to the one speaking. God is speaking to each one of us. Our task is to stop and listen.
Worship is the family of God sitting at His table and turning the things of this world off while we dine.
Ask God to help you turn off the unnecessary so you can worship Him.
(Photo courtesy of pixabay.)
(For more devotions, visit Christian Devotions.)
---
---