For then the dust will return to the earth, and the spirit will return to God who gave it. Ecclesiastes 12:7 NLT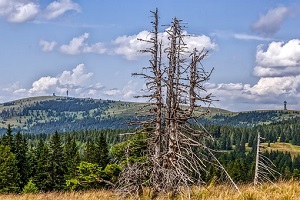 I asked them to live as if they were dying.
I remember the middle school years. Occasionally, I thought about dying, but most of the time I focused on living.
During the last nine weeks of the school year, I assigned my middle-school students weekly one-page essays. One topic was "If I Only Had One Day to Live."
Most of the papers told of selfish pursuits. Going to places they wanted to visit. Buying things they wanted to have. Spending time with friends and family.
Although a few of the papers mentioned confessing sins to God before they died, most made little mention of spiritual things. Only one student captured what I had hoped most of the students would have. She told of how she would tell everyone she met of God's love and encourage them to trust Christ as their Savior.
As I near retirement age, I know I have more years behind me than in front of me. Death, while an unpleasant subject, is something we must all think about. All of us will die, except for those alive when Jesus returns.
We begin dying the moment we come into this world. Our bodies deteriorate rather than rejuvenate. Regardless of what techniques we use to keep them healthy—exercise, vitamins, medications, rest—our bodies will break down.
The way to live as if we're dying requires walking by faith. Faith in Christ as our Savior and then faith in Him to guide our lives. We can put off asking Christ to forgive our sins and live with reckless abandonment—as many of my students said they planned to do on their last day—but we may not have a last-minute chance to ask forgiveness before death. Procrastination is risky business.
Jesus offers a much better lifestyle. One He calls abundant life. One where His priorities become our priorities, where His love for others becomes our love for others. One where we let Him guide us as a shepherd guides and cares for His sheep.
When loving God with all our being and others as ourselves becomes our main goal in life, we'll successfully master living as if we're dying.
How would you live if you only had one day? Who knows? You just might.
(Photo courtesy of pixabay.)
(For more devotions, visit Christian Devotions.)
---
---