I call on you my God, my God, for you will answer me, turn your ear to me, and hear my prayer. Psalm 17:6 NIV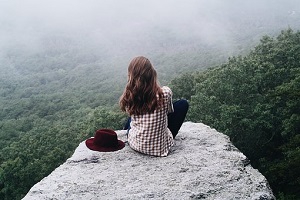 When I was a young married woman, I was a victim of domestic violence.
One famous politician stated, "Life was not meant to be easy." This is quite true. Before and after I divorced my husband, life was not easy.
I am still single, but that is not the end of the world. I do not feel alone as I did when I was married. I aim to keep calm and trust in God. My life could have happened to any woman. In the quiet stillness of my heart, I have formed a relationship with God and His beloved Son, Jesus.
Tough times can test anyone's faith. Like anyone else in life's experiences, if God is all I have, then I find God is all I need. As the psalmist reminds us, God listens to our prayers and works in mysterious ways.
For me, prayer is a great way to practice religious meditation. Praying to God is available to everyone. Christians like me keep calm, trust in God, and pray for healing and resolution to the issues of daily life. God loves each of us and will never forget us.
With prayer, I turn frowns upside down. I turn the other cheek and keep on keeping on. I choose my responses, such as following the straight and narrow path in life.
What steps can you take to pray, keep calm, and trust in God?
(Photo courtesy of pixabay.)
(For more devotions, visit Christian Devotions.)
---
---