If you believe, you will receive whatever you ask for in prayer. Matthew 21:22 NIV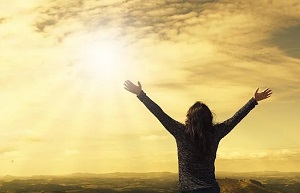 "Lord, please heal me," I prayed for over a year.
I had suffered a series of ailments that were expected to be resolved soon. However, after completing the prescribed regimens, I developed an unexpected rash the doctors couldn't figure out. Asking God for healing became my focus, but one year later, the irritating rash spread down my body. I was not receiving what I asked God for.
Most of us would probably admit we don't always believe we will receive whatever we ask from the Lord. That's okay. But we can let go of the guilt we feel that we just don't believe enough or that we aren't praying enough.
But how do we reconcile these circumstances with Jesus' promise?
The answer lies in the other facets of prayer found in the Bible. One is related to our role. When we pray, we should never doubt. Yet it takes the Holy Spirit's power to have such unwavering faith. This is another facet. When we invite the Holy Spirit to intercede for us, we can know He is praying in accordance with God's will. Alignment with God's will is the most critical aspect of answered prayers.
When my rash worsened, I prayed for wisdom. I no longer just wanted it to disappear; I wanted to learn the source. One day, God dropped His answer into my spirit. I followed what I believed He told me, and within twelve days, the rash was nearly gone. Today, I am completely healed.
If we pray in our limited human capacity for what we think we need, rather than relying on the Holy Spirit, God may reveal that His timing hasn't arrived yet. Or maybe He has an answer and is waiting for us to ask Him. Life is all about God—His plan, purpose, and will. He has determined what's best for us.
Don't be discouraged. Keep asking God to show you His will in the matter you are praying about. God loves you, He is faithful, and your answer is coming.
(Photo courtesy of pixabay.)
(For more devotions, visit Christian Devotions.)
---
---