Let us rejoice and be glad and give him glory! For the wedding of the Lamb has come, and his bride has made herself ready. Revelation 19:7 NIV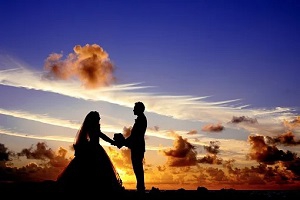 Laughter and joy pervaded the room as the bride-to-be, her friends, and mother prepared for the celebration.
The day the bride had dreamed of since she was a little girl twirling in tutus had arrived. She reflected on the moment her man got down on one knee. Now, after spending months preparing and making dozens of phone calls to arrange the venue and flowers, cake, and decorations, all seemed to be in place. She was becoming a Mrs.
The bride's best friend added the finishing touches to her make-up while her cousin fixed her hair—her curls bouncing along with her heart. As her mother zipped up the gorgeous dress and placed a string of pearls around her neck, the bride's radiance was contagious. Each minute felt like days as she anticipated the opening of the wooden doors and the groom's first look at her. All my life, I have waited for this moment, she thought.
The process of getting ready for a wedding is extraordinary, not only for the wedding couple but also for all others in their lives. Like this preparation for the celebration of a man and woman becoming one, the Lord is getting us ready for life beyond earth in heaven.
Rather than dreading death, we can think of it as a wedding ceremony where we anticipate the doors opening and us walking down the aisle to meet Jesus.
But we should not wait until the last minute to prepare or rely on guests or family members to do everything for us. Just as each wedding is unique in its colors, decorations, people, and timing, our salvation is an individual process with the Lord—a journey that births the most beautiful intimacy.
We are not guaranteed tomorrow, so asking if we are ready for an eternity with God is a good idea.
(Photo courtesy of pixabay.)
(For more devotions, visit Christian Devotions.)
---
---