Search me, God, and know my heart; test me and know my anxious thoughts. See if there is any offensive way in me, and lead me in the way everlasting. Psalm 139:23-24 NIV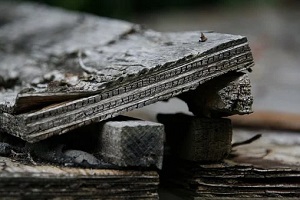 "I'm here to get your rot out," reported the carpenter.
Yay! He's going to get my rot out. Wait a minute. I have rot?
When I looked at the corner of my porch, all I saw were a few pieces of vinyl siding that needed reattaching. He saw something else. Okay, maybe I did do the right thing when I sought an expert to look at the problem. If left to me, I probably would have covered it up and called it a day. With his expertise, he identified the problem and proposed a solution.
How the carpenter treated my rot prompted me to peruse inwardly. Do I have rot that needs to be eviscerated? Am I even able to identify it? According to the psalmist, I needed to ask the expert, God, to show me areas that need work.
Just as God knew David inside and out and from the womb to death, God also knows me. If left to myself, would I take the hard path of identifying and rejecting the rot? Or would I cover it with good? The carpenter could only see the results of the rot—the sagging porch. To the casual observer, it looked okay. God can see through the good to the rot.
Once the rot is exposed, the carpenter must pull out the bad and replace it with good. In me, God helps me rid myself of the bad. As the rot affects the good around it, my sin affects all parts of my life. With much prayer and the direction of the Holy Spirit, sins can be revealed and repentance sought.
Finally, I must be filled with the good of God. Things like the Word of God, constant prayer, submission, and worship alone and with fellow followers of Christ. These are just a few of the good things of God. As I fill up with God's good, my whole edifice is strengthened and beautified by His grace. Unlike the porch repair, this process is lifelong. Continual purging. Continual filling.
As I look at my repaired porch, I remember God's goodness and my constant need to remove my rot. When is the last time you asked God to remove your rot?
(Photo courtesy of pixabay.)
(For more devotions, visit Christian Devotions.)
---
---