And having shod your feet with the preparation of the gospel of peace. Ephesians 6:15 NKJV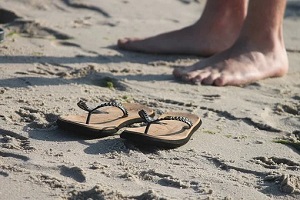 Shoes have evolved.
Centuries ago, everyone wore sandals and used them for protection, not a fashion statement. Malls full of accessories to match every robe did not exist.
In our modern world, a woman can fill her closet with a variety of footwear: slides, espadrilles, pumps, ballet flats, loafers, boots, and more. My husband stands amazed at the selection of women's footwear available in stores. I mean, what more does a man need than sneakers and motorcycle boots?
Paul compares the spiritual armor believers should wear to the military armor worn by soldiers. A Roman soldier's boots were made of tough leather, studded with hobnails on the bottom. Marches across miles of rough terrain required gripping power. These iron-studded soles also served as a weapon. A quick kick with a sole full of nails inflicted painful stopping power to an opponent. Warrior cleats were designed for battle.
Paul calls the foot-covering aspect of our armor the preparation of the gospel of peace. The knowledge of God's Word prepares us for traveling through life's calamities. And the good news message strengthens our confidence and trust in the Lord despite the situations we face.
When we allow stress and worry to paralyze our fellowship with our heavenly Father, we are not walking in the harmony Christ died to give us. Confusion reigns, Scripture gets confusing, and condemnation attacks. If we miss this essential element of our armor, we become vulnerable on the battlefield of life, like a soldier who tries to fight an enemy barefooted.
But when our journey is studded with the nails of the gospel, we can dig into spiritual terrain and stand our ground. Each step we take into a hostile world has the power to destroy the domain of anxiety, placing us in a battle-ready position to use the other elements of armor.
We may have a variety of foot adornments to choose from, but the most important pair will be to cover our spiritual walk with the knowledge of God's Word.
May each step you take remind you of the warrior shoes you wear.
(Photo courtesy of pixabay.)
(For more devotions, visit Christian Devotions.)
---
---