The virgin will conceive and give birth to a son, and they will call him Immanuel, which means "God with us." Matthew 1:23 NIV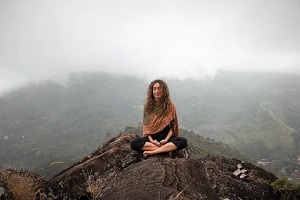 Christmas Eve. I sat alone in my car in the parking lot near the park I had come accustomed to visiting when I had nowhere else to go.
The house on the other side of the street caught my eye. Beautiful Christmas lights hung on the outside. Through the window, I saw people as they talked, laughed, and enjoyed their Christmas Eve. Although I didn't know them, the sight of a happy family enjoying their Christmas Eve triggered the pain of rejection. Uncontrollable tears cascaded down my face.
Earlier in the year, I had been forced to leave my childhood home and find a way to provide for myself. At eighteen, I had no career or college degree. Through this experience of rejection, I felt as if I wasn't good enough. No one wanted me. No one cared. I wasn't important.
Sitting alone in my car on the night before Christmas, I believed the lies. As I sobbed, peace swept over me. A peace I hadn't felt much of in my life. I heard the Holy Spirit whisper four words: "I came for you."
As I pondered these words, I pictured baby Jesus coming from heaven and being born to save me and be with me. I sensed what God was saying. He sent His Son Jesus to be with me. He didn't reject me but accepted me the way I was. Contrary to what rejection told me, I was good enough, wanted, cared for, and important to Him.
The message of God with us still applies. Jesus came to save us, help us, and be with us. He brings light into the dark places of our soul, peace to our hearts when we are desperate, and counsel when we're triggered by our pain.
Maybe you've experienced rejection as I did. Perhaps you've believed the lies that you aren't good enough, that no one wants you, that no one cares, and that you're not important. Nothing could be further from the truth.
God came for you. He is with you. And He loves you. You are good enough, you are wanted, you are cared for. You are important to Him.
(Photo courtesy of pixabay.)
(For more devotions, visit Christian Devotions.)
---
---